We have known plastic glazing for a long time. The windows of the "first wave" were of insufficient quality. They were often installed incorrectly due to little experience in installation. In this regard, many owners of problematic glazing are interested in the issue of disposability. Europe has long studied all the ins and outs of the problem and found a solution: Since plastic isn't subject to rapid decomposition and significantly pollutes the environment, it should be recycled.
Since there are really few processing plants, and they cannot be found in every locality, the issue of recycling old windows is very acute. Companies involved in the installation of glazing don't undertake recycling. Therefore, the issue of what to do with the old PVC windows and doors is worth considering in advance.
How to Properly Dis
pose of Old Plastic Windows?
In the current realities, there are several ways to get rid of the unnecessary window structures:
Recycling. It is the right choice. Recycling saves resources and protects the environment. The resulting plastic is used in the production of the same windows — as a raw material for creating drip caps, window sills. 

Waste landfill. You can contact a construction waste disposal company. It will not solve the problem of environmental pollution, but it will help to get rid of unnecessary garbage. 

Reapplication. Take a closer look at the windows. You may need them for your summer cottage or for glazing a greenhouse. You can suggest them to someone you know or place an ad to expand your reach.
Note! You cannot just throw windows in the nearest landfill or place them near a trash can. They belong to the category of construction waste, and a fine is imposed for their incorrect disposal. 
If you don't have an agreement on the removal of construction waste with the property management company, you cannot simply leave old windows and doors near the garbage bins. If the management company isn't engaged in construction waste removal, it makes sense to conclude an agreement for the removal with the company that will install new ones. Sometimes this service is provided at no additional cost.
Peculiarities of Recycling PVC Windows and Doors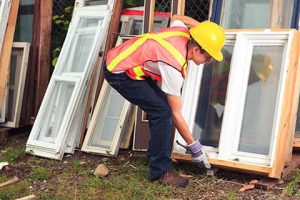 The widesread replacement of wooden frames with windows made of PVC has begun relatively recently, so most plastic windows have not yet expired. Due to the greater homogeneity and inertness of plastic, such windows last longer than wooden ones — their working lifespan can reach half a century. Hardware, of course, deteriorates much faster, but that is why it is consumable material. Disposal of plastic windows may be required due to mechanical damage to the frame or architectural replanning in the room. Hence, what about the old ones? There are several options:
Lazy. Order the removal of garbage and old plastic windows in the company that will install new windows for you. The contract for construction waste removal concluded with the company will relieve you of responsibility for the future fate of window structures. Cons — additional fees may be required.

Green. It will take more effort: you need to find PVC plastic collection points in your city. You will have to bring windows to the drop-off point at your own expense, but you will be calmer, knowing that your frames will not be thrown away at a waste landfill but will be recycled.

New. You may need to replace an almost new window. For example, a month ago, you ordered it, but you suddenly realized that instead of a blind frame you want a folding sash. This is solved by calling the company that installed the window: if there is no damage, they will simply take it away, and they can even make a discount on something else.

Countrified. Call your friends, neighbors, and relatives who are home-gardeners if anyone needs frames and glass for their summer cottages. They are suitable for both residential buildings, piazzas, and greenhouses. But you will have to dismantle it carefully — there is hardly any use for broken ones.
How does Recycling Work?
This process is best organized in Europe. Let's consider Germany as an example. It is the most prosperous European country in terms of economic indicators. Back in 1994, the country's authorities enacted several laws on environmental protection, and are actively adhering to their position.
Blinds, windows, plastic doors are collected at special points throughout the country and recycled. It even brings some income. Raw materials obtained during recycling are used in the manufacture of window frames and glazing elements At the same time, natural resources are not wasted, and CO2 emissions are reduced.