One of the most common materials that have affected all areas of human life is plastic. Various polymers nowadays have become indispensable due to their relatively low cost and the large number of products that are made from them. They are relentlessly pushing aside glass, metal, and paper. At the same time, from all waste, plastic is the most convenient and easy to recycle. For example, plastic bottles and bags can be recycled completely. Also, the ability to endlessly send plastic for recycling saves the consumption of oil from which it is originally produced.
Using Recycled Plastic
Today, many things are produced from plastic waste, and some of them are not associated with this material at all:
Furniture. Nowadays, plastic planks for creating furniture are as common as wooden ones. They can also be sawed, barked, and flattened. Plastic tables, chairs, shelves, hangers, and other pieces of furniture are no longer surprising to anyone. On the contrary, many tend to buy them precisely because such furniture does not require special care, does not rot and rust, is not damaged by all sorts of pests, and is capable of serving for a long time. Outdoor furniture is also created from plastic planks. For one bench for two, you will need about 80 kg of plastic bottles.

Road surface. A novelty of recent years has been the invention of a road made of plastic in the Netherlands. The road consists of puzzles that are easily assembled into a single canvas. At the same time, it is very durable and does not heat up in the sun. And one of the companies in Russia began to produce plastic paving slabs, which also has excellent performance characteristics.

Plastic containers. It is the most obvious thing made of plastic waste. They turn into sheets of different parameters, and then they can be turned into containers for something new: ice cream, vegetables, eggs, etc., including plastic containers for garbage.

Elements of urban structures. Beautiful multi-colored playgrounds are also made from recycled plastic. There are also posts and road barriers. The latter will cost much less than cast iron or metal. Besides, they are installed twice as fast. Fences do not need to be painted every year, and they are water-resistant. And if something happens to them, they will go back to recycling as many times as you want.

Office supplies. It is unlikely that any of us think about what kind of material markers, pencil cases, ballpoint pen cases, and other parts of office supplies are made of. But the truth is that almost all plastic school supplies are created from recycled waste.
Where Else Is Recycled Plastic Used?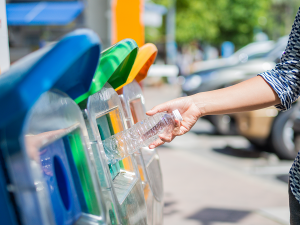 But the list does not end there. Also, recycled polyethylene is used to produce twine, non-food plastic wrap, technical tapes, small accessories for construction work, pallets, boxes, and pipes. There are enough reasons to collect plastic separately. Well, to accurately convince you of the benefits of its recycling, here is a clear example. From 1 ton of plastic bottles, one can make insulation for 750 winter jackets, 450 sqm of carpet or fabric for covering 200 sofas, and many other things that a person needs for life.
About a third of recycled plastic is used to make fibers for carpets, synthetic yarns, and clothing. Other areas include the production of sheets, bandage tapes, upholstery for cars. Approximately 70% of all recycled European PET is used for the production of polyester fibers. Large fibers are used as insulation for sportswear, sleeping bags, as a filler for soft toys.
Recycled plastic is also used to make smaller diameter fibers. People make artificial wool used for knitted shirts, sweaters, and scarves. Such fabrics can contain up to 100% recycled material. For example, making a warm faux wool sweater requires an average of 25 recycled PET bottles.
Sheet and band are classic recycled plastic products. The sheet is produced to make plastic boxes (for fruit and eggs), which account for approximately 9% of the total recycled plastic used. Other uses for recycled plastics include packaging for toiletries and consumer goods, bristles, and poil, which, in turn, are used to make household brushes, brooms, both conventional and road cleaning equipment. 
This is believed to close the recycling loop as it allows the packaging to be recycled into new packaging. All recycled packaging remains available for recycling. Recycled plastic banding tape is mainly intended for industrial use. It can successfully compete with PP and steel belts. Fibrous material obtained from recycled plastic can be used as a sorbent at gas station treatment facilities, as a heater, or as filler.
From plastic waste and mineral fillers (ash, sand), polymer concrete is produced, a very strong and durable material that has a variety of applications. Plastic obtained from used beverage bottles can potentially become a cheap raw material.